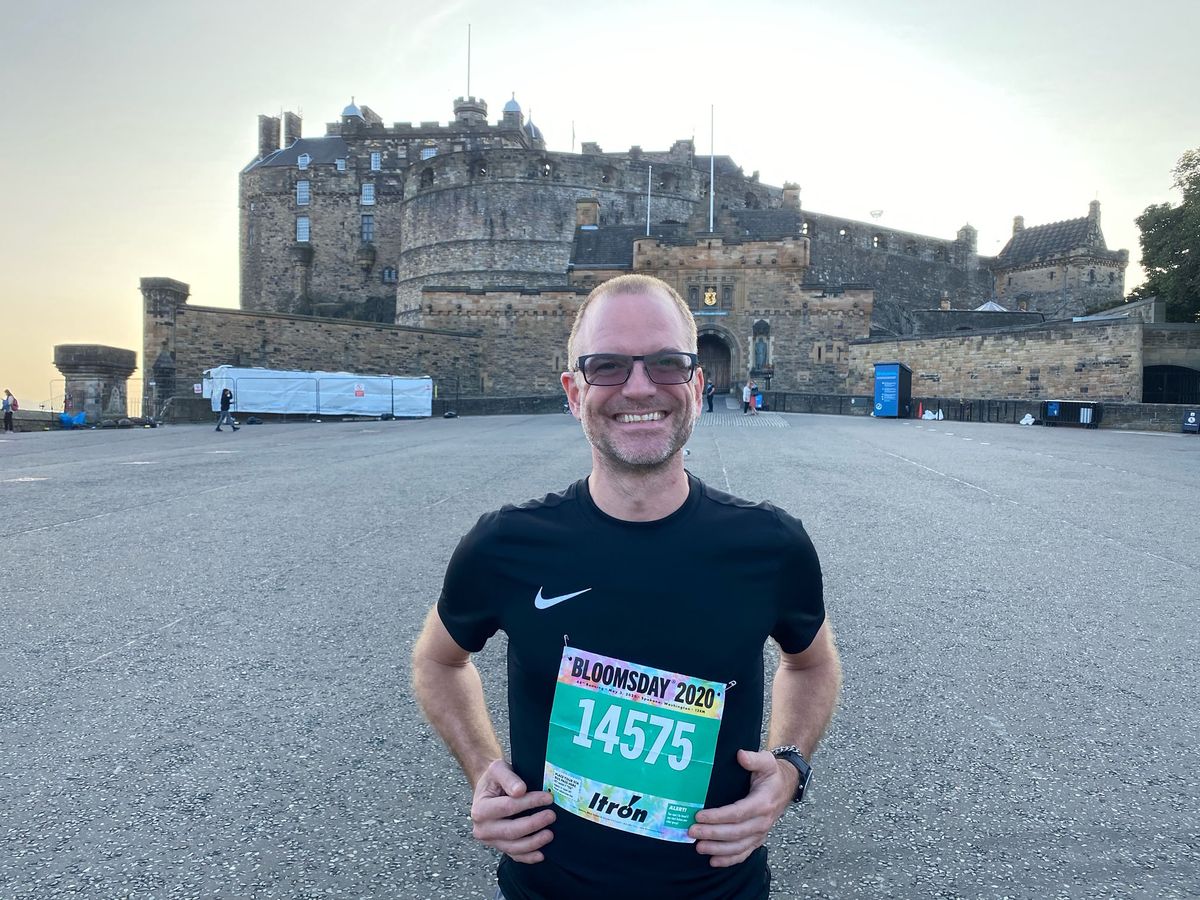 The COVID-19 pandemic has paused or altered many traditions and events in the past six months, but sometimes doing things virtually brings new opportunities for connection.
With Bloomsday 2020 shifting online, Bloomies from all over the world have the chance to participate. Here are a few of their stories.
Bloomsday brings joy and achievement in Northern Ireland
Stephanie Beattie is no stranger to Bloomsday abroad.
In 2011, the Seattleite was living in Papua New Guinea when her friend introduced her to the race. She wanted to complete the distance for traditions-sake and asked Beattie along with some other friends to help "recreate some of the novelties that make Bloomsday so unique," Beattie said.
Beattie designed a special runner's T-shirt and a finisher T-shirt. They used water guns and drove a golf cart decorated as a safety car, even holding up a Doomsday Hill sign for their runner.
Now nearly a decade later, that same friend encouraged Beattie to complete the race in her new home of Ballymena, Northern Ireland.
Beattie moved to Northern Ireland seven years ago when she married Stuart, an Irishman, whom she met while they were both teaching at an international school in Papua New Guinea.
Beattie is a South Korean adoptee . She loves to read, mainly science fiction but is currently going through a crime drama phase. She and her husband are foster parents. Her husband teaches piano while Beattie works as a substitute teacher.
About five years ago, Beattie was diagnosed with cancer, but has since been treated.
"I'm grateful that my body is healthy enough for running," Beattie said of her new hobby.
She decided to start running with a couch-to-10k program in July.
"We have an opportunity to evaluate how we are living and to more purposefully incorporate worthwhile activities rather than continuing on 'just because'," Beattie said.
When her friend from Papua New Guinea, who introduced her to Bloomsday, sent her the link to the race a few months ago, she knew it would be the perfect motivator.
Beattie completed the run on Saturday with Stuart. They ran in intervals and walked a bit from Ballymena, where they live, to the nearby village of Broughshane and back.
Since completing the race, Beattie is now looking forward to wearing her unique finisher shirt around Northern Ireland.
"I'm very much looking forward to the finisher T-shirt as I'm sure it will be one-of-a-kind where I live!" she said.
Bloomsday reminds former exchange student of his time in Spokane
Masahiro Toriumi came to Spokane as an exchange student 40 years ago when he was 13. He has stayed in touch with his host family, even bringing his own family to meet them.
In 1993, he ran his first Bloomsday while visiting Spokane with his wife for his honeymoon.
Now, 27 years later, he's running Bloomsday in Tokyo.
"I'm always missing Spokane, kind people and beautiful nature," Toriumi said.
His route will bring him past a subway station, rice fields and an old Japanese temple.
In the last few months at home, Toriumi said the pandemic has really affected his life. He "got fat" but was also able to spend more time with his family.
Running Bloomsday is not only a chance to be active, but to think about his friends in Spokane.
"We are worried about wildfire smoke in Spokane," Toriumi said. "We're praying that settle down soon."
Virtual Bloomsday made running easier for two parents in Germany
After having a baby just three months ago, Norma Wagner was thrilled to complete Bloomsday in just 1 hour and 38 minutes in Goch, Germany.
Wagner grew up in Spokane watching Bloomies struggle up Doomsday Hill. She completed the race three times in Spokane, but has since moved to Germany with her husband, Daniel.
She received an email that Bloomsday would be virtual and jumped at the opportunity.
"I thought what a great opportunity to participate while living abroad," Wagner said. "I can share with my husband a piece of my hometown roots … we both enjoy running and exercising."
The couple has three children, two girls and a baby boy. At the beginning of the pandemic, Wagner's job as a stay-at-home mom became more difficult with two young ones out of school and a baby on the way.
"We are grateful to have a garden space at our home so we spent a lot of time outdoors," she said.
Luckily, things in Germany have started to re-open and Wagner felt ready to run Bloomsday.
She did a combination of running and walking in the Goch area near corn fields and farmland while rocking her Bloomsday 2014 shirt.
Her husband, Daniel, stayed home with the kids so she could complete the course, like she had done for him the day prior.
"In a sense, virtual Bloomsday made it easier on us so we could leisurely run our courses without worrying about kids!" Wagner said.
Daniel ran with a friend in the Kalkar area passing Moyland Castle, completing the course in under an hour.
The pair hope to be able to travel to Spokane in the future and run the traditional course together.
tinyurl
is.gd
u.nu
clck.ru
ulvis.net
shrtco.de