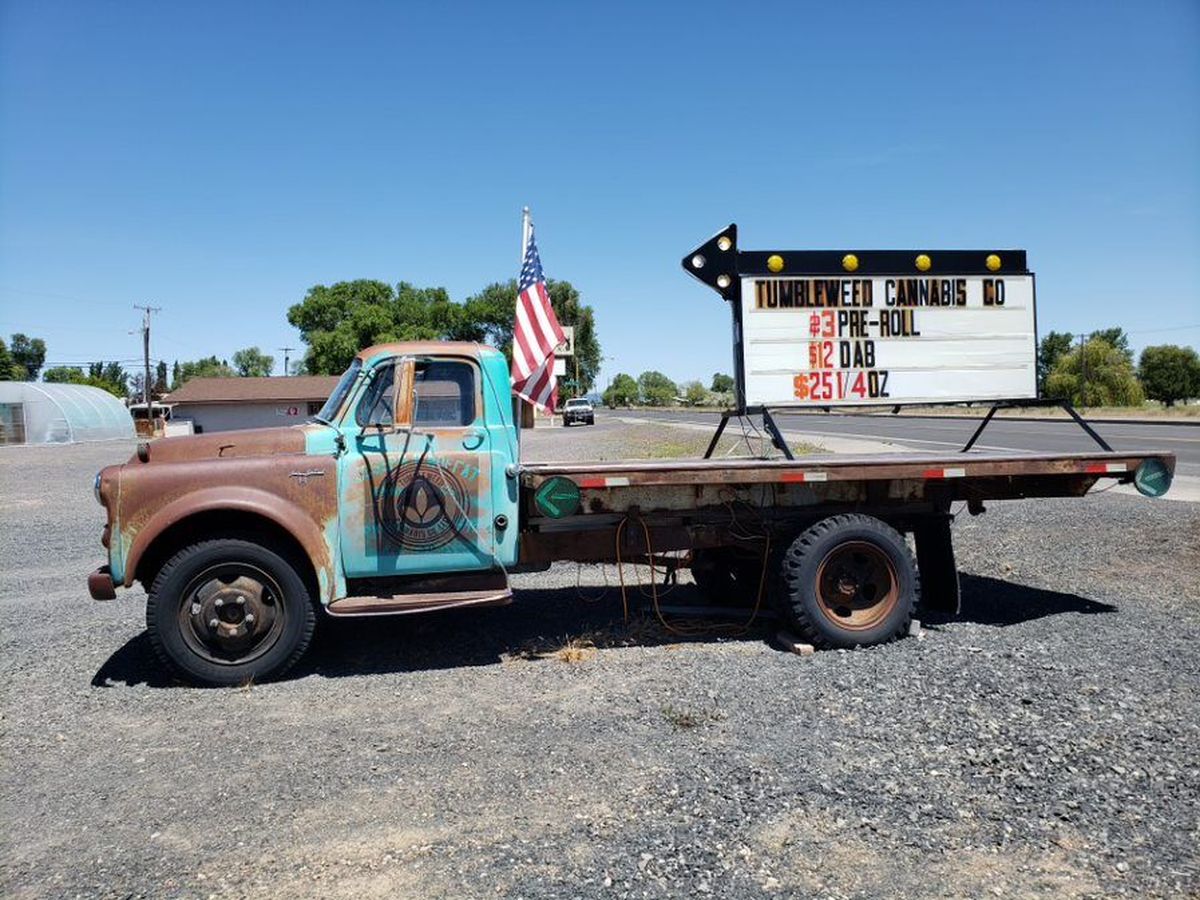 By Kate A. Miner EVERCANNABIS Correspondent
Have you ever wondered what dispensaries outside Washington are like? Unless you are fully immersed in the cannabis culture or a pro in the industry, chances are you haven't ventured outside our state in search of legal weed. In fact, if you're like me, you pretty much stick to your neighborhood favorites … especially in spring lockdowns.
However, this summer I had the opportunity to take a road trip through some of our neighboring states – California, Nevada, and Oregon to be exact – and I thought I'd share what I found along the way.
I'll mention right off that I was not in any big cities or high-traffic areas. We travelled across southern California (Joshua Tree), up through the middle of Nevada (Tonopah), and into Oregon (Bend). We visited small cannabis shops along the way, finding them on Leafly based on reviews and convenience.
In California, retailers check your ID and require waiting in a separate area until a budtender is available. Mask wearing and social distancing protocol is strictly enforced.
When the budtender calls you for your turn, the selection begins. There are big brands that appear everywhere you go, such as Top Shelf, Nug, and Caliva. We tried them all, including Top Shelf's famous Whoa-Si-Whoa (we weren't impressed), and there are zillions of edible options. Top Shelf is big on presentation in California and win the prize for best packaging.
The biggest difference in culture we saw was in Nevada, where we stopped at two different shops. The first one was in Henderson (not far from Las Vegas), at a place called The Dispensary, which also has locations in Las Vegas and Reno.
In Nevada, the waiting room is strictly enforced. When you enter, a receptionist behind a glass partition will scrutinize your ID and ask you a few questions, like "What did you plan on purchasing today?" Only one person was allowed into the waiting room at a time. The cash machine is here, so you need to take care of that before you enter, and then they wave you through.
I found this place the most frustrating. It reminded me of what Washington was like many years ago in only medical days. You enter through a big door into a long room with a counter that runs the length of it. Budtenders are behind the counter, and behind them are shelves of plastic bins. No product on display. You are not allowed to look, touch, or smell.
I was a bit dumbfounded and wide-eyed, but I had a fantastic budtender. She quickly laid it out for me and explained that most people pre-ordered online before coming in. Sure enough, I checked out their website afterwards and it was very comprehensive.
She asked several questions, showed me options on a menu, and after learning about where I was from, steered me away from the more popular items. Instead she made local recommendations that were spot on. One of our favorite purchases from here was Sugar Pine Blue Cookies. Nondescript packaging, but exceptional flower. Prices were high, the most we paid.
We made another stop in Winnemucca at Water Canyon Dispensary, which looked like a bunker on the outside and a cushy apartment inside. Again, the receptionist behind the glass checked us in, but this time we found ourselves in a room full of swanky sofas.
I expected to find the same plastic bins, but was surprised to find a small, well-stocked shop with everything on display. There were only two budtenders here and they accompanied us to show product, made creative suggestions, and even let us smell product if we wanted. The prices were also the lowest we observed on our trip. Because of that we had some fun and tried several pre-rolls, always a good option for road trips. This was some of the strongest weed we found.
I asked why they were so different than the place in Henderson and learned that Water Canyon is Native owned; the Winnemucca Indian Colony opened the dispensary in April.
Finally, on our way home, we made a stop in Oregon, somewhere off the beaten path a few hours outside Bend, at fun place called the Tumbleweed Cannabis Co. We were pretty well-stocked by now, so we didn't get too adventurous.
It was a small shop with no waiting room, and pretty similar to what you'd find at a smaller dispensary in Washington. Folks were friendly and highly recommended the local fare. We ended up with a few selections from Wykanush Cannabis, including their famous Sour Patch Kids (which come as two tiny pre-rolls in a tube), and some flower from Prūf Cultivar, known for matching a person's chemistry with the right weed.
All in all, it was a great trip. It was nice to see that the dispensaries were all busy, and despite the state of unrest felt throughout the country, the cannabis industry appears to be booming. Every place we went we heard that they are having a hard time staying stocked, and that business was the best they've ever had.

Kate A. Miner has a degree in visual anthropology, and has worked in marketing and advertising for many years. She writes, takes photos and teaches yoga.
tinyurl
is.gd
u.nu
clck.ru
ulvis.net
shrtco.de