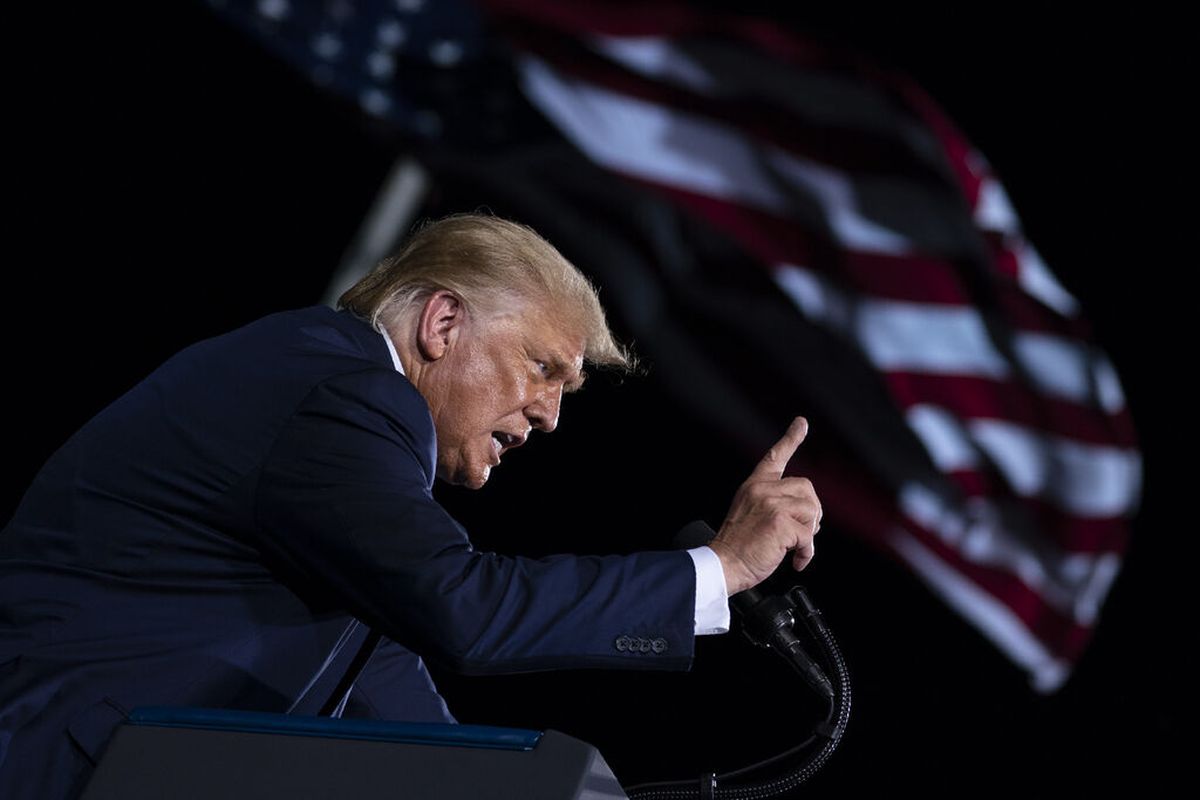 WASHINGTON – Northwest lawmakers reacted Thursday after President Donald Trump declined to say he would accept the results of November's election if he loses, sparking fears of a constitutional crisis.
In a news conference Wednesday, Trump was asked whether he would commit to a peaceful transfer of power if he loses the election to Democratic candidate Joe Biden. The president, who has repeatedly warned without evidence of a "rigged" election, replied, "We're going to have to see what happens."
Sen. Patty Murray, D-Wash., condemned Trump's equivocating and called on Republicans to commit to accept the election results.
"This isn't the first time President Trump has dangerously used his words to undermine one of our country's fundamental principles," Murray said in a statement Thursday. "I am committed to upholding my oath to defend our Constitution and our democratic processes, and regardless of the election's outcome will do my part to help ensure the peaceful transfer of power that has defined our democracy since its founding."
"In the coming days," Murray's statement continued, "I would hope to hear every single elected official, especially members of President Trump's party, commit to following the will of the people as ballots are counted, and not this President's."
Trump told Fox News Radio on Thursday he would abide by a Supreme Court ruling that Biden won the election, but repeated his claim about fraudulent ballots, which he called "a horror show."
North Idaho GOP Rep. Russ Fulcher echoed the president's warnings.
"I understand President Trump's concern with election fraud," Fulcher said in a statement. "Mail-in voting is ripe with ways to exploit this election, and our focus right now should be on how to prevent election fraud from happening in November. I truly believe that a legitimate, trustworthy election process is the only way for both sides of the aisle to find peace with the results."
Rep. Dan Newhouse, a Republican who represents Central Washington, was one of the first GOP lawmakers to issue a statement Thursday morning.
"The peaceful transition of power is fundamental to our form of government," Newhouse said, "and so is a secure election. Come November, the American people should accept the results of a free and fair election."
After Republicans and Democrats alike responded to his remarks, Trump on Thursday repeated his assertion that mail-in ballots will lead to massive fraud.
"The ballots, that's a whole big scam," Trump said. "We want to make sure the election is honest, and I am not sure that it can be."
Election officials – including Washington Secretary of State Kim Wyman, a Republican – have said that while voter fraud does occur and is prosecuted, there is no evidence that voting by mail leads to an increase in fraud as Trump has warned.
Other Republicans from the Inland Northwest sought to reassure voters that their choice for president, whatever the outcome, will be respected.
"On November 3, the American people will elect a president who will be inaugurated on January 20," Idaho Sen. Jim Risch said in a statement. "Whatever the outcome, the transition will be orderly and peaceful as it has been for 244 years. This is a cornerstone of our democracy."
Sen. Mike Crapo, another Idaho Republican, nodded to the nation getting through past elections with contested outcomes, such as the 2000 contest in which George W. Bush prevailed over Al Gore only after a Supreme Court ruling.
"In our nation's history, there have been several presidential elections about which the results were contested," Crapo said in a statement. "We have been able to resolve those disputes, and the Presidential and Vice-Presidential swearing-in ceremonies have proceeded as dictated by Article II of the U.S. Constitution. I am confident that will happen after this year's election as well."
Rep. Cathy McMorris Rodgers, R-Spokane, called for both parties to accept the election outcome, shifting the focus to Trump's opponents.
"In America, we cherish the peaceful transition of power," her statement reads. "It remains one of the most important parts of this great experiment in self-governance, as is the integrity of our elections. I encourage people to have their voices heard this November and believe whatever the result, we must accept the outcome."
"That also means that Joe Biden and the Democrats should accept the results," McMorris Rodgers continued, "even when it isn't what they wanted."
At a Sept. 17 town hall event, CNN host Anderson Cooper asked Biden if he would accept the election results.
"Sure, the full results," the former vice president replied. "Count every vote."
Biden warned in July that Trump would try to "indirectly steal" the election by attacking the legitimacy of mail-in votes, and in August former Democratic nominee Hillary Clinton said Biden "should not concede under any circumstances" if the results are close, stoking concerns that the election could be decided in the courts if vote tallies in key states are contested.
Shaakirrah Sanders, professor of law at the University of Idaho, said that while the country has been through a contested election in 2000, a sitting president has never refused outright to leave office after losing at the ballot box.
"If an outgoing president actually refuses, this will be an issue of first impression, something that has never happened," Sanders said. "And there we can see why it was important for our framers to have an independent judiciary and an independent legislative branch of government as well."
Sanders, who specializes in constitutional law, said that even if Trump were to lose the election and refuse to concede, he could not remain in office without support from other parts of government, including Congress and the courts.
"A lot of it really comes down not so much to what President Trump will do," Sanders said, "but what will the other government officials – who are charged with making sure that the transfer of power is peaceful – what will they do?"
---
Orion Donovan-Smith's reporting for The Spokesman-Review is funded in part by Report for America and by members of the Spokane community. This story can be republished by other organizations for free under a Creative Commons license. For more information on this, please contact our newspaper's managing editor.
tinyurlis.gdu.nuclck.ruulvis.netshrtco.de