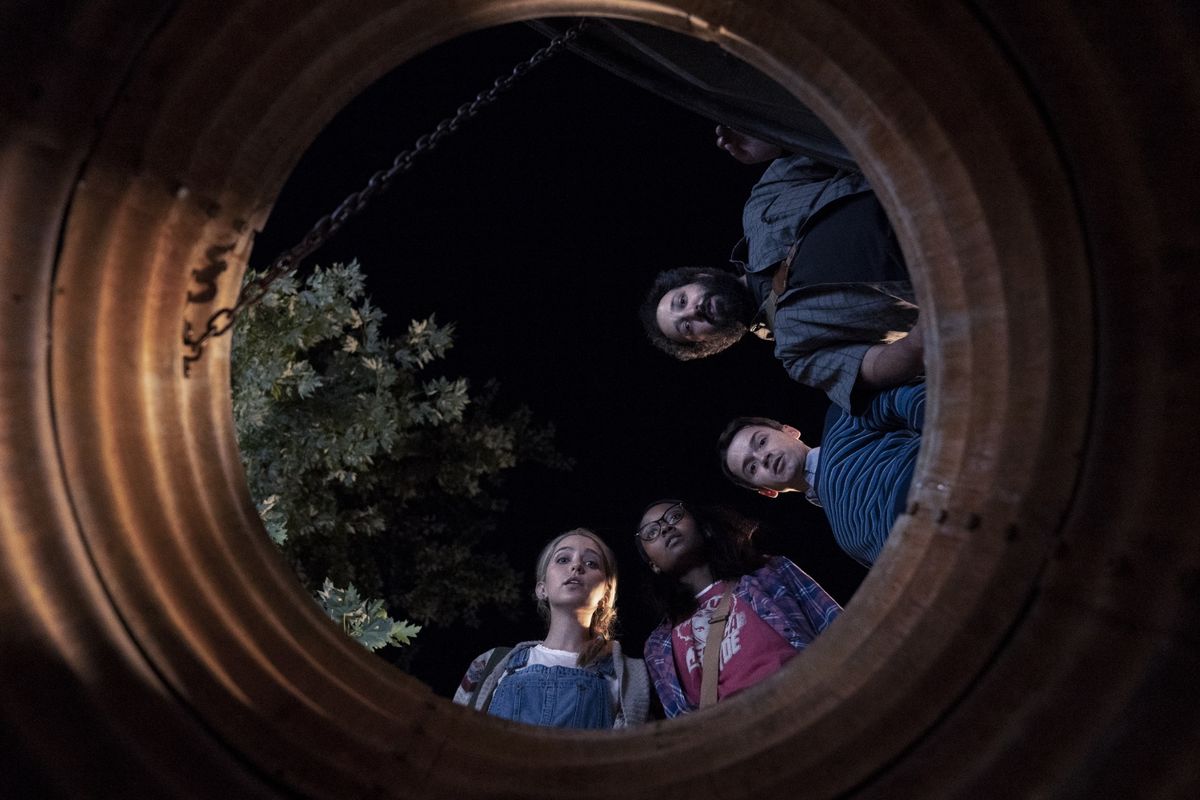 What's new for home viewing on Video on Demand and Netflix, Amazon Prime, Hulu, HBO and other streaming services.
Top streams for the week
Millie Bobby Brown ("Stranger Things") is "Enola Holmes" (2020, PG-13), the teenage sister of Sherlock (Henry Cavill) and Mycroft (Sam Claflin), in the lively family-friendly mystery-adventure that sends the accomplished young woman in search of their missing mother (Helena Bonham Carter). Jack Thorne ("His Dark Materials") adapts the first in a series of young adult novels by Nancy Springer, so sequels are likely. (Netflix)
Renée Zellweger earned her second Academy Award, this time for playing Judy Garland in "Judy" (2019), which follows the legendary performer through a series of sold-out concerts in London in the twilight of her career. While battling substance abuse and fighting for custody of her daughters, she begins an affair with a young British man (Finn Witrock). (Amazon Prime and Hulu)
A cult comic book is at the center of "Utopia: Season 1" (TV-MA), a conspiracy series that sends a motley squad of obsessive geeks on a mission to save the world with the help of the mysterious comic's creator (Sasha Lane). Novelist Gillian Flynn developed and produced this twist-filled adaptation of the 2013 British series relocated to Chicago. Though shooting was completed before COVID-19, the plot involves a pandemic burning through the country. John Cusack and Rainn Wilson co-star. (Amazon Prime)
The rousing British comedy "Misbehaviour" (2020, not rated) embraces the anarchy unleashed by feminist protesters (Keira Knightley and Jessie Buckley) at the 1970 Miss World Pageant in London, while also acknowledging the struggle of Black contestants on the world stage. Gugu Mbatha-Raw and Keeley Hawes co-star in the mix of farce and social commentary inspired by real-life events, with Greg Kinnear as Bob Hope. (Cable on Demand and VOD)
True stories: "Kiss the Ground" (2020, not rated) makes the case that replenishing the Earth's soil will not only feed the planet but also clean the water supply and combat climate change; Woody Harrelson narrates. (Netflix)
The documentary "Resisterhood" (2020, not rated) showcases the inspiring stories of six diverse activists working to protect civil rights. (Amazon Prime)
International pick: "Corpus Christi" (Poland, 2019, not rated, with subtitles) follows an ex-con (Bartosz Bielenia) who poses as a priest and undergoes a spiritual transformation while healing the wounds in a small parish in Poland. The Oscar-nominated drama features a powerful central performance and explores questions of faith, redemption and forgiveness. (Criterion Channel)
News: The streaming service Peacock, which offer free and subscriptions versions, is now available to stream on Roku.
Pay-Per-View / Video on Demand
The science-fiction drama "LX 2048" (2020, not rated) stars James D'Arcy as a man fighting to remain present in a culture choosing virtual reality. Delroy Lindo and Gina McKee co-star.
Two Hollywood documentaries debut: "Stuntwomen: The Untold Hollywood Story" (2020, not rated) narrated by Michelle Rodriguez and "Jay Sebring….Cutting to the Truth" (2020, not rated), about the celebrity hairstylist murdered with Sharon Tate by the Manson Family.
Netflix
The short documentary "A Love Song for Latasha" (2020, TV-PG) offers a poetic portrait of Latasha Harlins, whose violent death at age 15 was a catalyst for the 1992 L.A. Riots.
A stay-at-home dad (Allen Maldonado) goes in search of rare collector's sports shoes to get out of debt in the comedy "Sneakerheads: Season 1" (not rated).
True stories: The limited series "A Perfect Crime" (not rated, with subtitles) looks at the unsolved 1991 murder of politician Detlev Rohwedder amid Germany's reunification and legendary coaches share their philosophies in "The Playbook: Season 1" (not rated).
Foodie fun: Tickle your appetite with "The Chef Show: Volume 4" (TV-MA) and a bonus episode of "The Great British Baking Show" (TV-MA)
International passport: A poet returns after 20 years as a political prisoner in "Rhino Season" (Turkey, 2012, not rated, with subtitles) from award-winning Iranian filmmaker Bahman Ghobadi. Also new:
• "The School Nurse Files: Season 1" (South Korea, with subtitles), about a high school nurse who protects students from monsters that only she can see;
• Gang war thriller "High & Low: The Movie" (Japan, 2016, not rated, with subtitles) plus a half dozen sequels and spin-offs.
More movies: Hugh Jackman stars in the robo-boxing drama "Real Steel" (2011, PG-13), based on a Richard Matheson short story, and Ryan Reynolds headlines the restaurant comedy "Waiting…" (2005, R) costarring Anna Faris and Justin Long.
Kid stuff: Children help the railroad get their deliveries made in the animated "Mighty Express: Season 1" (TV-7).
Amazon Prime / Hulu
Oscar Isaac, Charlize Theron and Chloe Grace Moretz are among the voice cast of the animated "The Addams Family" (2019, PG). (Amazon Prime and Hulu)
Hulu
Kim Catrall stars in the late-night soap opera "Filthy Rich: Season 1" (TV-14). Three episodes available, new episodes Tuesdays. You also can stream the new season of the Fox competition show "The Masked Singer" (TV-PG) and the spinoff "I Can See Your Voice: Season 1" (TV-PG).
Two animated superhero shows collide in the direct-to-video animated feature "Teen Titans Go! Vs. Teen Titans" (2019, TV-PG).
HBO Max / HBO Now
"The Invisible Man" (2020, R) with Elisabeth Moss reimagines the horror classic as a modern drama of domestic violence. Leigh Whannell writes and directs the acclaimed thriller. Aldis Hodge and Storm Reid co-star. (All HBO platforms)
Alex Gibney's two-part documentary "Agents of Chaos" (TV-14) looks into Russian interference in the 2016 U.S. elections. (All HBO platforms)
"The Murders at White House Farm" (not rated) dramatizes a real-life murder mystery. Freddie Fox, Mark Addy and Stephen Graham star in the British limited series. New episodes each Thursday. (HBO Max)
Other streams
The beloved BBC miniseries version of "Pride and Prejudice" (1995, TV-PG) with Colin Firth and Jennifer Ehle has been remastered for its 25th Anniversary. (BritBox)
The new weekly series "The Amber Ruffin Show" (not rated) is a sketch comedy and commentary show featuring the comedienne and "Late Night With Seth Meyers" writer. (Peacock)
A princess discovers that she has superpowers in the family friendly "Secret Society of Second-Born Royals" (2020, TV-PG). (Disney+)
"The Films of Agnès Varda" collects over three dozen features, documentaries and short films by the prolific French filmmaker (along with bonus interviews and featurettes), from her debut "La Pointe Courte" (1955) to her final film, the self-portrait "Varda by Agnes" (2019) (France, not rated, with subtitles). Also streaming are a pair of documentaries shot in Seattle by director Martin Bell: "Streetwise" (1984) and "Tiny: The Life of Erin Blackwell" (2016). (Criterion Channel)
Sean Axmaker is a Seattle film critic and writer. His reviews of streaming movies and television can be found at streamondemandathome.com.