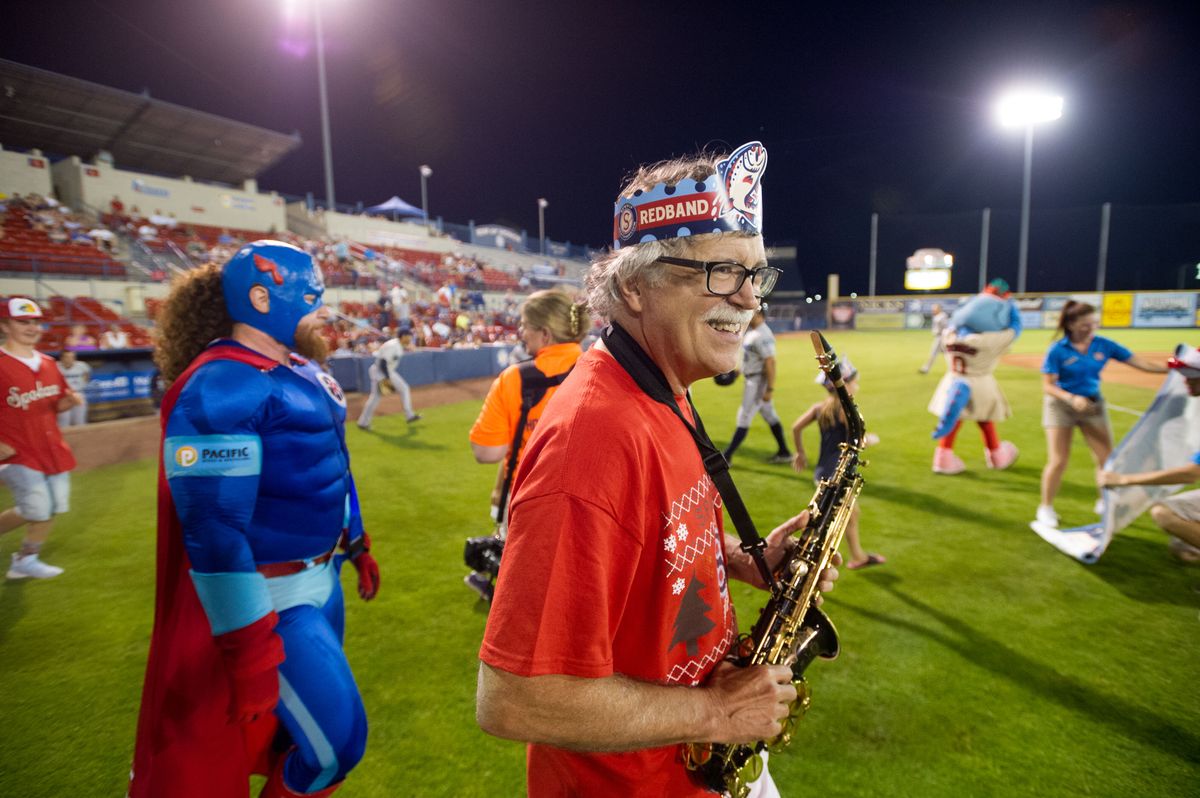 A little more than 25 years ago, Charlie Butts never would have imagined getting to play the national anthem in front of thousands of fans for any major Spokane sporting event. And it was more unimaginable to think of himself as becoming a staple of Spokane sporting events in general.
But across that time, the Pullman-area product, who's as in tune with his software programming career as his saxophone passion, has evolved into a routine performer for every local team imaginable, from the friendly confines of Avista Stadium to the spacious chasms of the Spokane Arena.
And it all traces back to a chance encounter with Spokane Indians Senior Vice President Otto Klein in 1996 at a gig with his longstanding R&B unit, Charlie Butts and the Filter Tips.
"Otto Klein and the Spokane Indians guys were down drinking at a place called the Mars Hotel, which was this quirky building in downtown Spokane," Butts said. "It's not there anymore, but it had a really cool live music venue in it. He listened to the band, and he came up to me and said, 'How would you like to play in front of 7,000 people?'
"He said, 'Will you play the national anthem at the Spokane Indians?' I was already a Spokane Indians fan, and of course you can't say no to that. So, I had to learn the song. … I've been doing that ever since."
Butts, who was on pace for his 25th consecutive year of performing the national anthem at Indians games, quickly attracted the attention of other local teams. This meant playing the national anthem for Gonzaga basketball games, Spokane Chiefs hockey matches and Washington State University basketball games soon after.
"He ripped out the first national anthem, and we've never looked back," Klein said.
"In all sincerity, it still gives me chills when Charlie does the national anthem at the ballpark. And I think all 6,000 people in the ballpark feel the same. … Whenever he performs, it's one of the best starts to a game you could ask for."
And that's stood as a point of amazement and gratitude from Butts ever since. "I never would have ever thought of doing that. It's just because (Klein) asked me to," Butts said.
In 2017, he got his call up to the major leagues, where he performed "The Star-Spangled Banner" for a game between the Seattle Mariners and Oakland Athletics.
"That was quite an experience," said Butts looking back on the performance. "My son was there, and he said, 'Wow.' I mean we were standing there, and I looked over and there were the Oakland A's."
With credentials like that, it's no surprise that Klein considers Butts to be one of the first influential performers who popularized an instrumental national anthem at that time.
"In 1996, no one had an instrument for the national anthem," Klein said. "It was very rare for an instrumental of the national anthem to be performed. I feel like Charlie broke through a barrier.
"Since then at the ballpark, we've had an electric guitar, a symphony, a violinist. We've had some unique playing of the national anthem at the ballpark, but it all started with Charlie."
Out of his hundreds of national anthem performances, Butts has collected almost as many memories, with many centered at Avista Stadium, including a Fourth of July game between the Indians and Vancouver Canadians where he set a personal record of playing four songs in one game.
After playing "The Star-Spangled Banner" and "O Canada," Klein asked if he could stick around to perform "God Bless America" for the seventh-inning stretch. Butts agreed. The only problem was he had never played it before.
"I spent seven innings, or 6½, trying to learn it in my head and playing air saxophone. It came out OK. I didn't miss a single note," said Butts, who also played "Take Me Out to the Ballgame" right after.
But not all those memories associated with playing the national anthem can be considered perfect, with an admittedly pitchy rendition he delivered from inside the Otto the Mascot costume coming to mind.
"At the Indians, I played once in the Otto costume. It didn't work out too well. I actually went into the office after the game to apologize – everybody thought it was part of the act. Nobody knew it was me."
Outside the Indians, another humbling moment came in the 1999 Western Hockey League Championship between the Spokane Chiefs and Kootenay Ice, when a sour note in "O Canada" appeared to throw the Chiefs for the rest of the series.
"(Kootenay fans) were all singing the Canadian anthem, but they were singing it way ahead of where I was playing it. So, there was this one note where I played their note instead of mine, it was awful.
"It took me 10 years to get over it. The Chiefs lost the game. I, again, apologized to the organization. Then they lost the next three games. It was like that note lost them a playoff series," Butts said.
Still, Butts returned to midseason form for his next performance and remained the go-to sax authority for the anthem, admittedly adding a little more sass in the brass for the years to follow.
"In about the last four years or so, I've figured the nation needs more love, so instead of playing it as trying to scream at everybody, I try and melt everybody's heart."
"I always play it straight ahead so people can sing it. It's like I'm singing it. And I think that's really important because you don't want to mess around with the phrasing. You're not drawing attention to yourself. The song is bigger than all of us, so you've got to let them sing."
Klein praises this approach for a form of performance that can be easily overdone or exaggerated by performers with less insistence on the source material, saying, "The way that an artist performs the national anthem comes in all shapes and sizes, and Charlie is always the most respectful.
"He's not trying to be fancy. He plays it respectfully, and I think the crowd really appreciates that."
Now, amid the coronavirus and all its associated cancelations, those heart-melting renditions have been put on hold, at least until the next minor league season. If anything, the temporary pause will just make the return all the sweeter, Butts said.
"When someone calls me up and we have an anthem booked, I'll get back in shape and make sure I can do it justice and be out there. … We're going to have a lot of fun when this thing is over."
"The door is always open for Charlie Butts," Klein said. "Whenever he can perform, he's always got an audience with us."
tinyurlis.gdu.nuclck.ruulvis.netshrtco.de