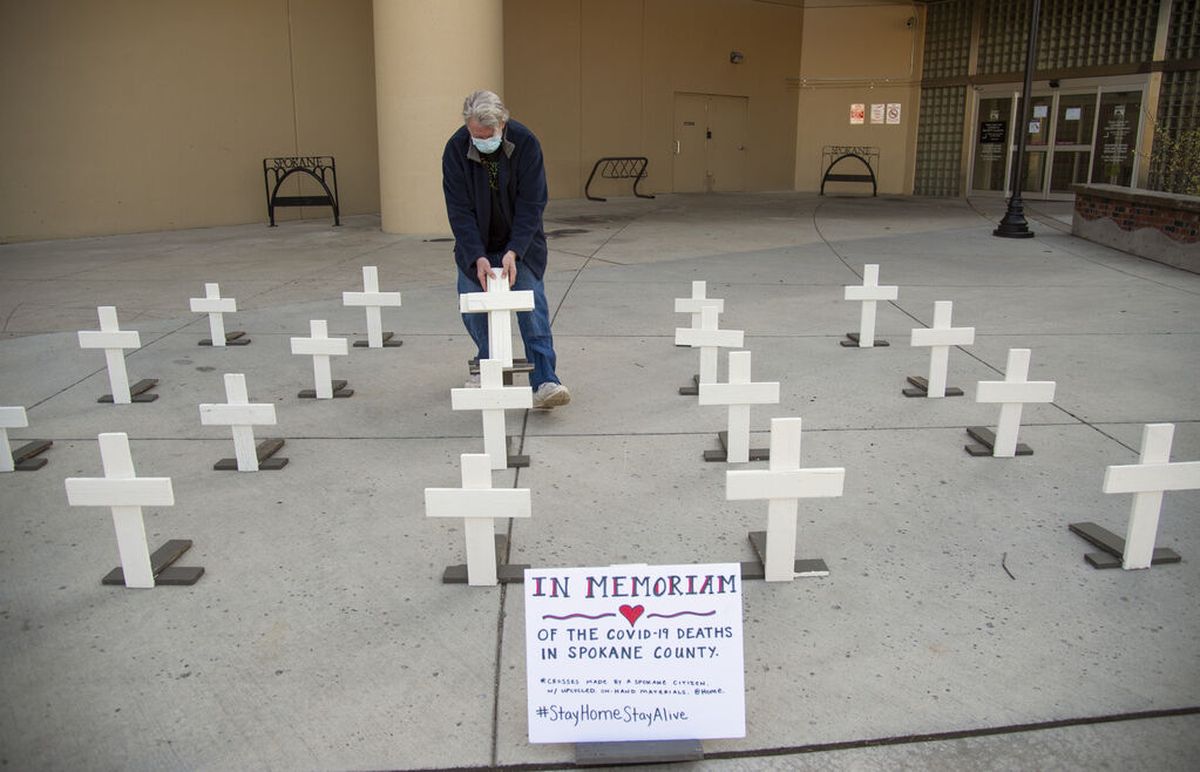 With 200,654 deaths as of Tuesday, the United States continues to have the most COVID-19 deaths of any country in the world, according to data from the Johns Hopkins Coronavirus Resource Center.
The country with the second-highest death toll is Brazil, with more than 137,000 fatalities.
New York, New Jersey, Texas, California and Florida lead the U.S. in COVID-19 deaths. Washington ranks approximately in the middle for state virus deaths.
As of Sunday, 2,037 Washington residents have died from COVID-19. Of those deaths, 89% have been in people over 60.
Thus far, 54% of the deaths in Washington state were associated with outbreaks in long-term care facilities.
So far, 91% of the 159 virus deaths in Spokane County have been in residents over the age of 60. Spokane Regional Health District confirmed 46 new cases on Tuesday, for a total of 6,460 total cases in the county.
As of Sept. 15, 99 of Spokane County's recorded deaths are associated with outbreaks in long-term care facilities.
COVID-19 continues to challenge long-term care facilities, from nursing homes to adult family homes in the region, during the pandemic.
As of Friday, there are active COVID-19 outbreaks at 11 long-term care facilities in Spokane County. Since the beginning of the pandemic, outbreaks in long-term care settings have accounted for 601 confirmed COVID-19 cases in the county as of Sept. 15, according to state data.
Outbreaks have continued in long-term care facilities, usually as a reflection of disease activity in the community at large. That's especially true with employees often working in multiple facilities or having to pull double shifts, which is not uncommon in the long-term health care industry, Patricia Hunter, long-term care ombudsman in Washington, told The Spokesman-Review earlier this month.
Hunter expressed concerns about workers potentially being burnt out, especially with the demanding work they do. She said as the state enters flu season, residents need to remember how interconnected communities are and how COVID-19 at large will affect their most vulnerable residents in long-term care settings.
"We are interconnected, and when we plan for the flu coming, we need to be inclusive of the long-term care settings and workers and residents," Hunter said. "We saw the majority of deaths are in long-term care settings. They should be at the top tier of our mind and planning right now."
Some other Washington virus facts in light of the nation's grim milestone:
Nonwhite residents in Washington state are dying at disproportionate rates from the virus. White people in Washington have the lowest death rate, six times lower than Native Hawaiian and Pacific Islander residents and four times lower than Native American and Hispanic residents, a Department of Health analysis found
.
Statewide, deaths spiked in late March, when an average of 29 people per day were dying from the virus. This summer, a second peak of deaths in late July and early August resulted in 15 deaths per day on average.
Some 78% of Spokane County's cases are considered recovered by the health district.
There are 37 COVID-19 patients hospitalized in Spokane hospitals, and 35 of them are county residents.
---
Arielle Dreher's reporting for The Spokesman-Review is funded in part by Report for America and by members of the Spokane community. This story can be republished by other organizations for free under a Creative Commons license. For more information on this, please contact our newspaper's managing editor.