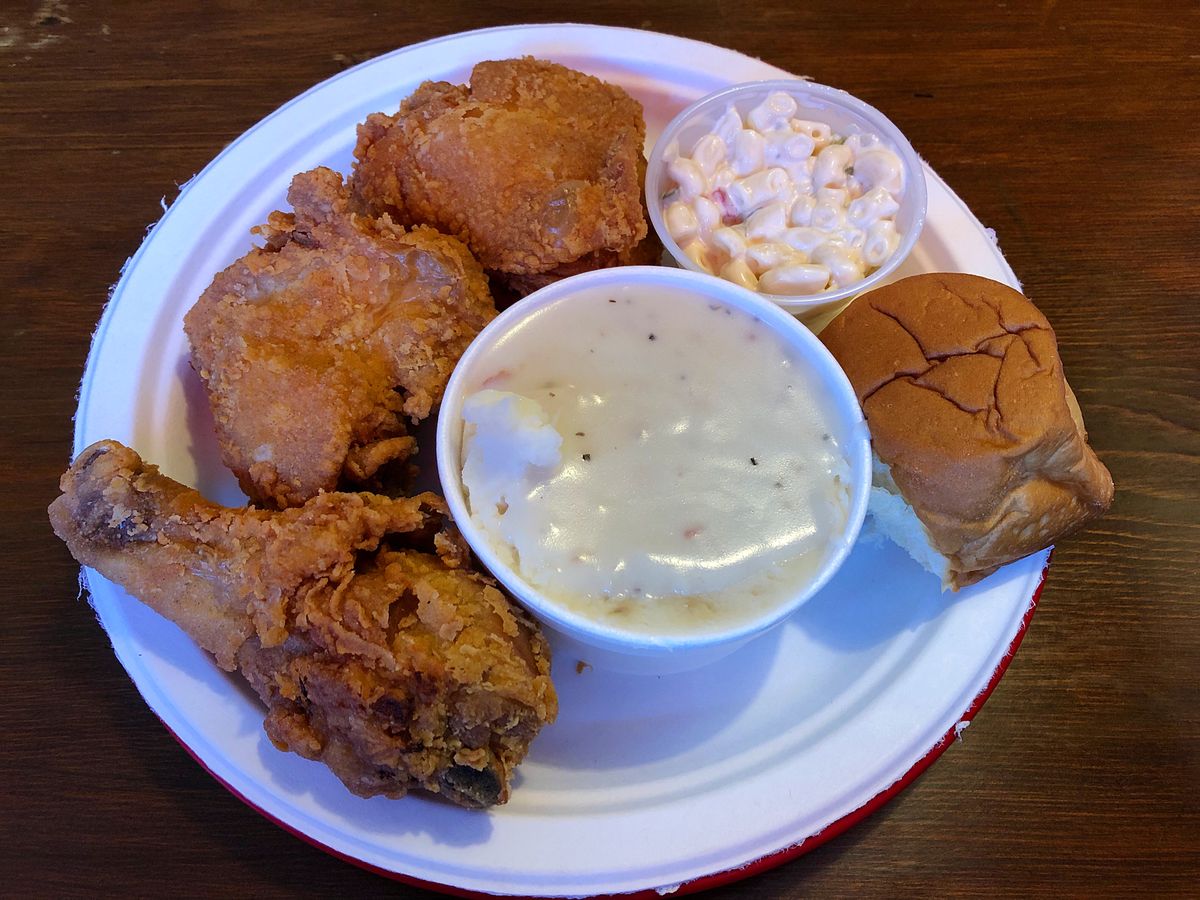 This is likely the first and last time I will use lyrics from Zac Brown Band's "Chicken Fried" for a headline and story, but it is appropriate for the topic at hand this week: fried chicken.
Lacy Muszynski, writing for MSN.com, recently named Park Inn as one of the best holes-in-the-wall for fried chicken in America. What, what, what?! The best fried chicken, one of my all-time favorite foods just like my colleague Audrey Alfaro, in our own backyard? Challenge accepted.
Park Inn
(107 W. Ninth Ave.; (509) 624-8111 and parkinnspokane.com)
Before heading to Park Inn on Friday night, I learned some Spokane history: Park Inn, established in 1932, is Spokane's oldest bar and restaurant. Upon arrival, I realized that I had driven by Park Inn unnoticed en route to the now-closed Fleur de Sel Creperie and Lindaman's Bistro and Catering and still-open Press for trivia night.
Park Inn has a separate bar and family-friendly dining area, and shortly after sitting down, friendly server Christian brought over water and took our drink and food orders while the Lakers-Nuggets (how appropriate again) playoff game was on nearby.
Along with the work assignment broasted chicken dinner (four pieces of fried chicken served with JoJo's for $16.95), a sampler appetizer (choice of three; mini corn dogs, deep-fried mushrooms and mozzarella sticks were selected) and an Avid cider were ordered.
The apps, served with ranch, tartar and marinara, were good, but the chicken was the main attraction – and my guest, a Gonzaga friend, and I agree wholeheartedly with MSN.com that this chicken is top-notch. It is perfectly and lightly fried, and the chicken is juicy and tender. Slam dunk!
The JoJo's are essentially a large baked potato cut into eight long slices – how have I never seen this before?! – and they are the perfect accompaniment to the stellar fried chicken served with tartar. There were happily leftovers, and we will skip the apps next time to focus on the chicken.
Also at Park Inn: It is adjacent to hospital and retirement community row, so the clientele was mostly senior citizens. One couple ordered a pizza and pitcher of beer and chatted up the server. Near us, a group of four men requested rolls of quarters for the four pinball machines (one of them is "Star Wars") and enjoyed pizzas and, of course, fried chicken.
And I love the Chris Bovey Vintage Spokane framed prints hanging everywhere. Park Inn is quintessential vintage Spokane.
Chicken N More
(414 ½ W. Sprague Ave.; (509) 838-5071 and chicken-n-more.com)
I had been planning for a while to write about fried chicken in Spokane, and Park Inn was the final push into the deep fryer. After many rave reviews, I finally walked over to Chicken N More for lunch downtown and was not disappointed. I have a soft spot in my heart for literal holes-in-the-wall that seat less than 20 customers.
Here is the deal about fried chicken: If the crust and skin are crispy, the chicken juicy and tender and the overall impression flavorful, then I am a happy customer. If the chicken is undercooked or overcooked, dry and flavorless, it's a big fail. Duh.
Chicken N More did not disappoint in ambience and food. Tender and juicy chicken and tasty sides. No mac and cheese on the menu, though. Charming owner Bob Hemphill was on-site and noted that mac and cheese had been requested many times by customers to be added to the menu (the answer is still "no"), then he handed my guest and me mini sweet potato pies. Sweet!
Ezell's Famous Chicken
(4919 S. Regal St.; (509) 448-4881 and ezellschicken.com)
The final fried chicken stop was Ezell's Famous Chicken on the South Hill. Ezell's is new to me, as I have never been to the original locations in Seattle and the surrounding area, and Ezell's, too, was widely praised by fellow fried chicken fanatics, er, connoisseurs.
I like the options of original or spicy for all things deep fried on the menu, and the rolls are adorably shaped like popovers (but they are still rolls). The fried chicken is satisfying, but I must agree (with pretty much everyone) that I prefer the chicken at Park Inn and Chicken N More.
What will absolutely bring me back to Ezell's, along with the cheerful cashier, is the fresh gizzards and chicken livers, two of my all-time favorite foods alongside fried chicken. Both are heavily battered, exactly how I like them, and both are delicious, filling and oh-so satisfying.
No-Li Brewhouse
(1003 E. Trent Ave., #170; (509) 242-2739 and nolibrewhouse.com)
As reported last week, No-Li Brewhouse owners John and Cindy Bryant had achieved their goal of raising $50,000 for the wildfire relief efforts in Malden and Pine City working with the United Way and Red Cross. As of Monday morning, the Bryants said they have now raised $75,000, and the new goal is $100,000. The donation includes a matching No-Li donation of $25,000.
The Bryants invited me to join them in Malden last Tuesday morning to attend a town relief meeting and meet with the United Way and Red Cross. In my 25 years as a journalist, I have never seen such devastation, raw emotion, willingness to help and frustration. It was heart-wrenching, to say the least, but the resounding theme was "you are not alone."
If you would like to be part of the community fundraising effort with No-Li, checks made out to Whitman County Fire Community Relief Fund can be delivered or mailed to No-Li Brewhouse, Suite 170, 1003 E. Trent Ave., Spokane, WA 99202.
Prohibition Gastropub
(1914 N. Monroe St.; (509) 474-9040 and prohibitiongastropubspokane.com)
Editor's Note: It was previously reported that Prohibition Gastropub is closing; that information is incorrect. Prohibition Gastropub is not closing.
Prohibition Gastropub executive chef, owner and manager John Leonetti announced on Prohibition Gastropub's Facebook page on Thursday that chef Michael Wiley will assume ownership and operation of the restaurant on Oct. 1, as Leonetti and his family are moving to Phoenix after operating the business located at 1914 N. Monroe St. for five years.
Wiley is known for Wiley's Downtown Bistro and will continue to run Wiley's, as well. Excerpts from the post:
"We would love to have the Prohibition family join us in welcoming chef Michael Wiley, who will be moving in on Oct. 1! We couldn't have found a better person to write the next chapter of this building filled with memories and to continue to make his mark in Spokane.
"Family is my most important and priceless investment. Jill, my wife, my support, the official taste tester and my biggest fan, needs me now. It's my turn to support her while she saves the trees and continues to follow her dreams. Big opportunities await her in Phoenix, in the world of recycling, and we've put off following her dreams long enough. It's her time to shine.
"We will be here until Sept. 30 and hope that between now and then, you come say goodbye, use your gift cards and welcome chef Michael, who will be training alongside me. Jill and I both will be here Sept. 26 for a fabulous party that evening. More details to follow. Please come by and wish us well. We would like to see you.
"Our most sincere thanks and appreciation for the love, kindness and patronage of our business. We appreciate all of you. Cheers! – Chef Leonetti, Jill and Baby Chef."
Best wishes in Phoenix and to chef Wiley. And signing off, you know I like my chicken fried, and cold beer on a Friday night …
tinyurlis.gdu.nuclck.ruulvis.netshrtco.de