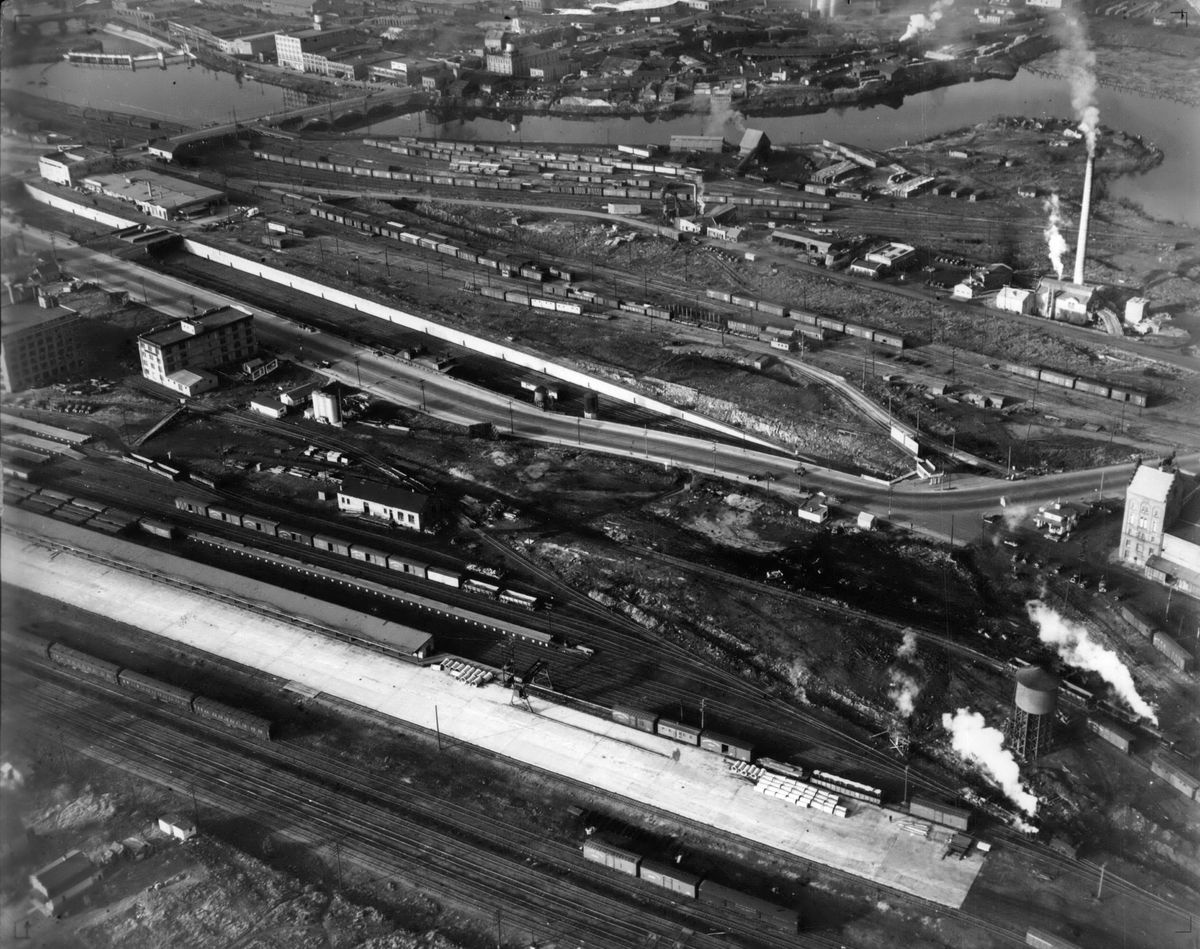 In 1937, the Northern Pacific railway announced construction of three new warehouse structures in East Spokane.
It was the Great Depression, and T.A. Murphy, general agent of the Northern Pacific, was happy to announce that the three new buildings, built by the NP and leased back to International Harvester, Sears, Roebuck and Co. and Montgomery Ward, "will mean a total expenditure of $550,000 and provide work for 300 men for several months." The railroad had spent $90,000 buying up and clearing land around its track corridor to complete the project.
The Sears, Roebuck and Co. mail-order warehouse, south of the NP tracks at 811 E. Sprague Ave., opened in 1938. The International Harvester warehouse was next door, at 715 E. Sprague, and opened in March 1939.
Aaron Montgomery Ward, born around 1843, conceived of a dry goods mail-order business that would send items to rural customers who could pick up their purchases at the nearest train station. His first catalog in 1872 was a single page with 163 items.
By 1883, the catalog was 240 pages and contained 10,000 items. Sears, Roebuck and Co. entered the mail-order business with its catalog in 1896.
Ward died in 1913, and his successors built the first retail store in 1926. The company built a seven-story flagship store in Spokane in 1929. It closed in 1978 and is now Spokane City Hall.
The Spokane Montgomery Ward warehouse, also finished in 1938, was 320 feet by 198 feet. Customers could place orders and pick up bulky and obscure items not stocked at the downtown retail store.
In 1968, the Montgomery Ward store on Spokane Falls Boulevard was remodeled, and the warehouse operations moved to the third floor of the downtown store.
The former warehouse building was later used by tarp-and-awning manufacturer F.O. Berg until 1998.
In 1999, the Washington State University bookstore, called The Bookie, moved in, part of the University District development.
The district is a cooperative effort of area universities, the city of Spokane, businesses and landowners, creating a university campus and residential and business neighborhood with the health sciences programs of Washington State University and Eastern Washington University as the centerpiece.