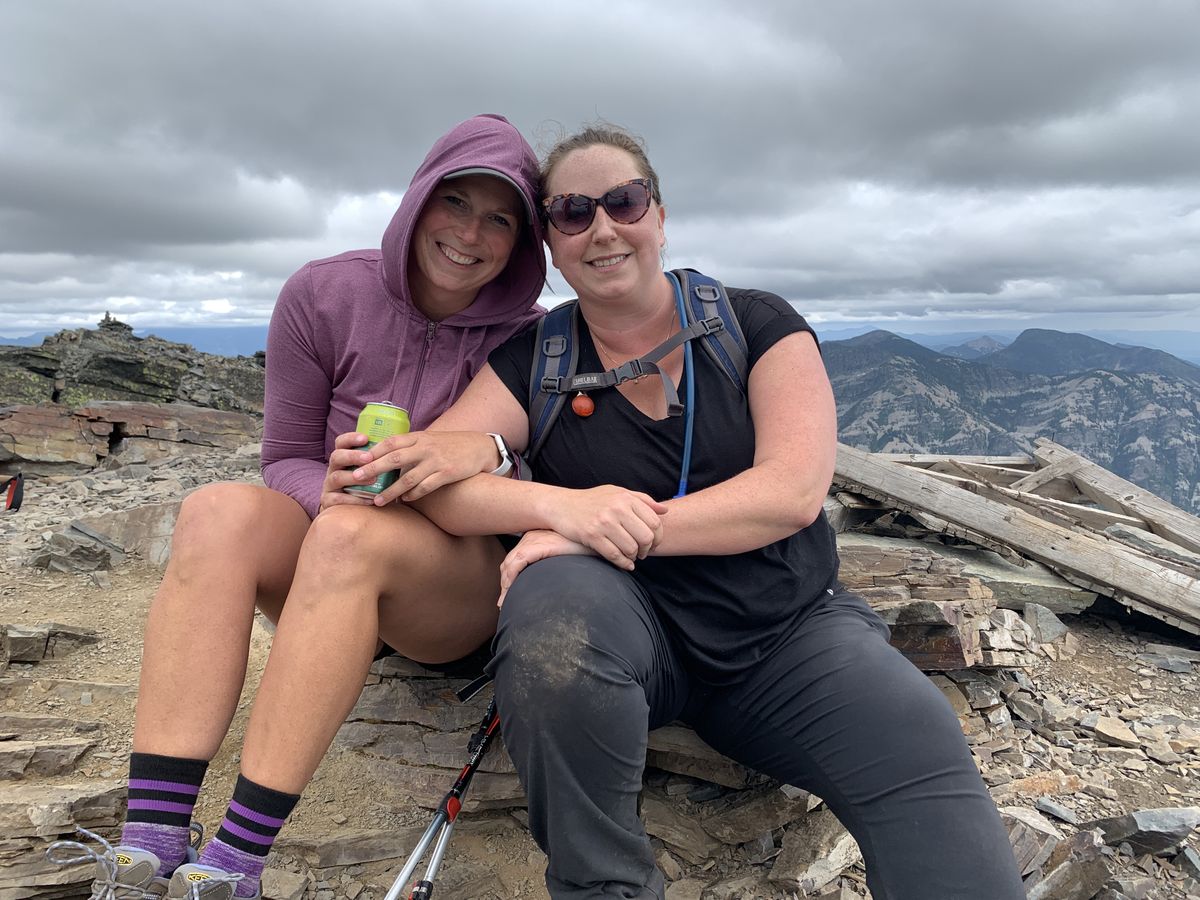 A bluff near High Drive in Spokane sparked the Baker family's love for hiking. Now as adults, two of the siblings recall how their middle sister, Krista Baker, shared a zest for adventure.
The girls often hiked trails with their dad, John Baker, and Krista stayed active despite having the genetic illness of cystic fibrosis. She played softball, as did sisters Nicole and Amanda. Later, Krista sometimes had to stop briefly on a hike if dust caused a coughing fit, but she kept going. CF compromises the lungs and digestive system.
A 1997 Ferris High graduate, Krista enrolled at Eastern Washington University, but her health deteriorated. Awaiting a double lung transplant, she died in 2000 at age 20. Today, her sisters often think about Krista as they continue a passion for hiking, which they do together whenever possible.
"When I think about Krista and growing up, I never felt there was anything she couldn't do," said Nicole Jonak, 43, a speech pathologist who now lives in Portland. "Probably up until she was 14 or 15, I never felt like anything seemed harder for her. It had to have been, but she didn't really complain."
Now, her sisters will combine their love for hiking with a new pledge – to complete a 27.6-mile trail together next month – both to honor Krista and raise funds for the Cystic Fibrosis Foundation's research toward a cure.
"Krista is the reason I became a nurse," said Nelson, 36, who works in Spokane at Providence Sacred Heart Medical Center in postpartum care.
Nelson also remembers Krista as being very active while growing up: "Krista was able to do hikes. She was really active as a high schooler and as a child. It wasn't until more of her senior year she started going downhill and wasn't able to do as much."
When Nelson was a teenager, she took on a caregiver role for Krista as she became more frail. Among John and Ruthell Baker's three daughters, "Nicole's seven years older than me, and Krista was about five years older," Nelson said. She learned to handle Krista's port for at-home IV medication and aided in her everyday activities.
The hiking bug for Nelson didn't really kick in until about high school, and she laughs now about how she'd complain as a child during most of a hike. Jonak and her husband, Ryan Jonak, would take her on trails with them. Today, Nelson and her husband, James, regularly enjoy hiking with their sons ages 4, 6 and 8.
"Hiking just helps," she said. "For myself, you overcome different obstacles when you're hiking. I just feel it's kind of a story of our life a little bit. You're able to get away from things and see beautiful places that not everyone else can. I like the challenge of it; it's just good for the soul."
Although the original CF benefit event, scheduled for Sept. 18-20 as the Pacific Northwest Xtreme Hike, was canceled in Portland because of smoky conditions from the wildfires, the sisters said they're set to finish the course independently.
The number of participants signed on has dwindled – starting with COVID-19 challenges and then down to about six hikers as the worst air quality in the U.S. hit Portland. In some ways, the events of the past six months have brought perspective to what CF patients endure, Jonak said.
"A gentleman on the team who is hiking has a 14-year-old daughter who has CF, and when COVID came about, they were kind of frustrated a bit about why so many things were shut down because that's how they approach life all the time," she said.
"He said, 'We always have to think about sanitizing, washing hands, not being around people who are sick, and if there's a risk, put a mask on.' It was an interesting perspective."
Smoky conditions have had a similar impact. She remembers Krista couldn't go outside on days when field burning was allowed. "The air quality wouldn't necessarily bother us, but it would definitely impact her."
The sisters' team name for their CF hike is Salty Licks, inspired by what occurred before testing for CF babies, as parents were encouraged to lick or kiss their baby's skin. If it tasted salty, that was a possible indicator of CF.
Nelson and Jonak have combined pledges totaling more than $6,200. Both say research and funding are still needed. Although new medications are helping about 90% of patients, a cure is still the goal.
Their plan now is to complete the Portland course on the Wildwood Trail in Forest Park in mid-October. Jonak's husband will be their support person for water stations and regular check-ins.
Asking for pledges was a bit out of Nelson's comfort zone, but she's glad about signing on, she said. After following the event's training schedule, they'll both come through, Nelson added.
In August, Jonak returned to Spokane for a family visit. That's when she and Nelson did some of their training together with climbs at Scotchman Peak near Sandpoint on Aug. 8 and then the Mount Roothaan Trail near Priest Lake on Aug. 13. They also did a preliminary hike at the South Hill bluff where it all started.
"Actually, our first training hike was on Aug. 6 on High Drive and then down to Manito and back up the hill," Jonak said. They took a photo with a view of the bluff "where it all started with hiking for us girls as kids."
"Dad used to take us behind that gas station (now Rocket), and then we'd go down that bluff; he always called it Paul Bunyan's grave. It was a steep hill, and we did that a lot in the summers with Krista and when Amanda was old enough. We'd slide down the big dirt hill. That's where I remember a lot of our hikes at the local hill."
Her dad would task his daughters to help find the best hiking stick or to create arrows "so we could know the path back if we came to a fork in the road," Jonak added.
"I remember that was a big job for Krista and I when we were younger, creating those arrows to make sure we knew where to go back."
A friend of hers made a beaded lanyard for Jonak's mask, and it has Krista's initials. The sisters will be thinking of her on the journey.
"We've committed, and we're going to do this hike," Jonak said. "We've been training hard. It has to be done soon because it's going to take us at least 12 hours at a minimum."
Including independent hikes, Jonak estimated she's trained a distance of 228 miles, so the Baker family tradition of doing the next Bloomsday together will be a breeze, she said. Nelson and Jonak plan to post pictures and updates of their October hike on their fundraising pages.
People can still support the event's goal to raise CF research funds through the end of December, Jonak said.
tinyurlis.gdu.nuclck.ruulvis.netshrtco.de