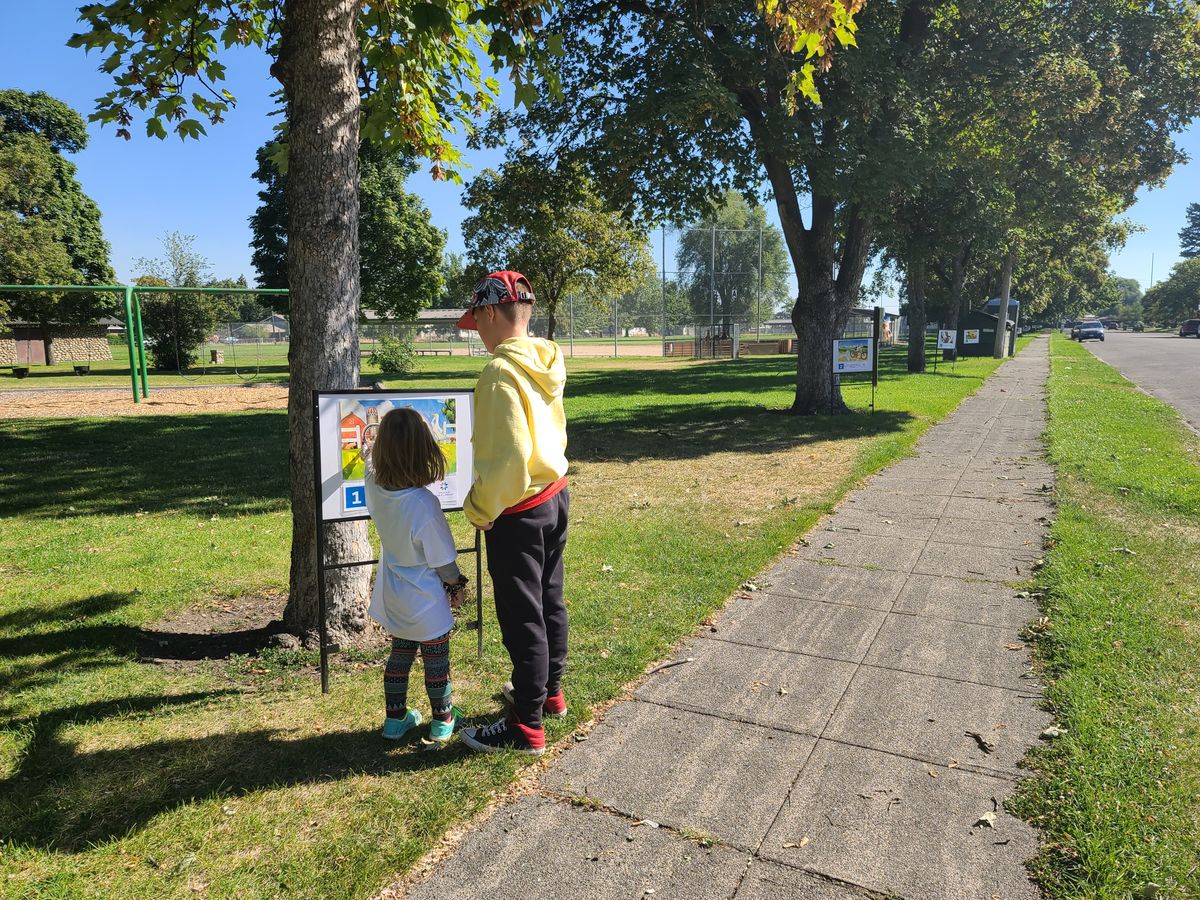 A couple who walk their dog daily in Comstock Park noticed a few kids flapping their arms like chickens near a sign. That introduced them to a "Read and Walk" feature that is rotating to different Spokane public parks.
The two South Hill residents shared how much fun it was to see kids each day interacting with the features on different panels when they talked to Spokane Public Library staff getting ready to move the display.
For a few more days, the feature is settled at Chief Garry Park. Kids and families can follow the panels, each one with reading and a physical activity to match it, from the featured children's book "Duck on a Bike" by David Shannon.
"We've been working with Spokane Parks to identify the next park at each point, so it's a little bit of you could go and seek it out, and it's a little bit we want to surprise and delight someone who might discover it without expecting it," Spokane Public Library spokeswoman Amanda Donovan said.
After Chief Garry Park, the "Read and Walk" is scheduled to move to Sky Prairie Park on Wednesday, and then to A.M. Cannon Park the week after that.
Each panel is roughly the size of a campaign sign, and they are spaced several feet apart for a walk. They include illustrations.
"It's fun for all ages," Donovan said. "I've heard anecdotally through social media posts from people who have stumbled upon it and enjoyed seeing it with their families.
"Many of us, well prior to the smoke, are spending so much more time outside. Adding a little bit of extra fun to the park has been really nice for us to be able to do."
The library district hopes to keep the story boards moving around to parks until colder weather arrives, and it plans to bring it back in the spring.
The library district has heard from other library offices as far away as Tennessee with inquiries on how to replicate the idea for their region.
The "Read and Walk" project was funded through a CARES Act Grant to help bring literacy to people who perhaps don't have access to devices.
A larger portion of that grant funding also funded the library's creation and distribution of 500 craft and art kits in backpacks to kids in need.
The kits were distributed to centers that included Union Gospel Mission, Open Doors, PALS, YWCA, World Relief, East Central Community Center, Spokane Regional Health District and Ogden Hall, among other sites.